Best Cricket Analysis Websites and Apps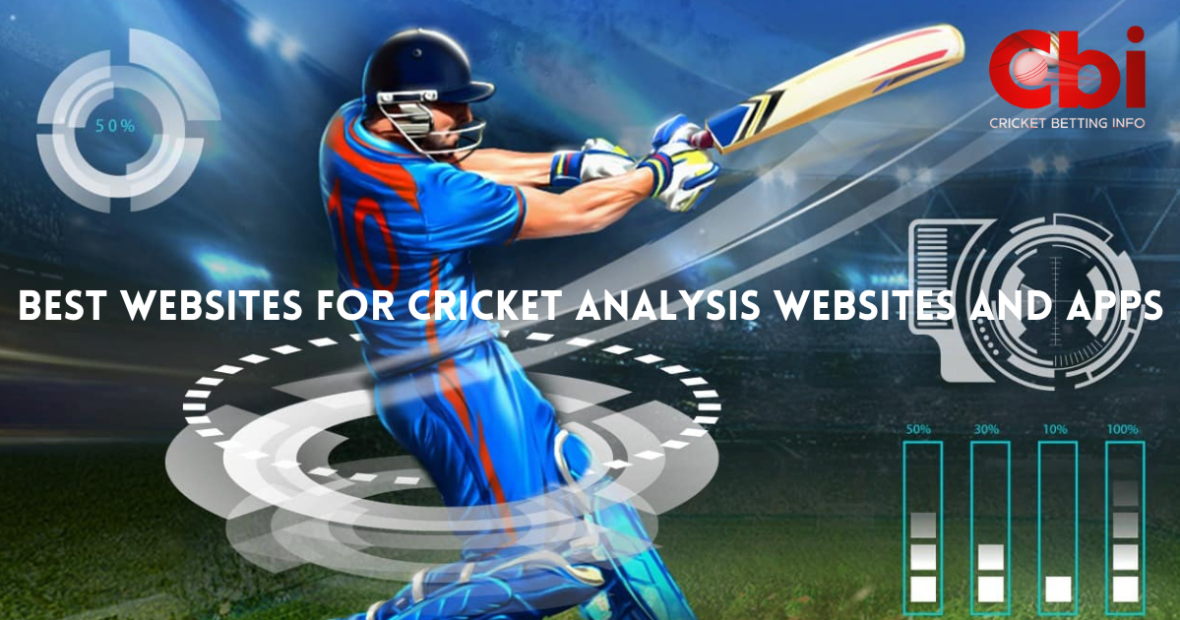 Cricket is one of the most followed sports in India, in both practices – entertainment and betting. Online Cricket betting can give you lucrative winnings if you know how to do it right. Cricket analysis includes exploring every data point of the sport, such as individual performances, team stats, past records, H2H stats, and more. Thankfully, you do not have to dig deep to find all the details yourself. The best website for expert cricket analysis helps you do the needful. 
Before we list the best websites and platforms for cricket analysis, let's understand what factors one should consider for analyzing cricket betting.
Factors to Consider for Cricket Analysis
An effective cricket analysis for cricket betting and a watertight strategy should include the following. 
Match Venue
Many experts claim that match venues are the bedrock of all cricket analysis. The hosts enjoy a home advantage as they would know about the various stadiums like the back of their hands. It also helps them assess the condition of the pitches and predict weather conditions.
Weather Conditions
Talk about weather conditions, and the mention is a must. You would find the best cricket analysis websites to dissect the weather conditions because the impact of elements on match outcomes is something you would not want to ignore. Windy conditions are ideal for swing and pace, and humid and dry get the batsmen and spinners' tails up.
Pitch Report
A green pitch is ideal for fast bowling, while a wicket with a crack on it acts as a perfect hunting ground for spinners. If you see grass on the deck, do not hesitate to put your money on the bowling team. The harder the pitch, the better the ball will come on the bat.
Past Record
H2H records are vital for cricket analysis and putting your money at stake. Leading websites feature an array of stats and H2H records, helping you understand the situation. That said, these stats can always change without warning. After all, cricket is an unpredictable sport.
Team News and Match Updates
Keeping track of team-related news and last-minute match updates is vital if you want to make a lasting cricket betting strategy. Ensure to follow a few cricket analysis websites and articles to understand everything.
Top Ten Websites for Expert Cricket Analysis
Here are the top ten websites for expert cricket analysis to help you understand everything about cricket betting odds in depth. 
Cricbuzz
Cricbuzz is one of the best cricket analysis platforms you will come across online. Whether you are a newbie or veteran, you can always turn to it for your daily dose of cricket information and understand everything in much detail.
Cricbuzz has defined tabs for live scores, match schedules, archives, the latest cricket news, information, videos, and more.
You can check the day's featured matches appearing as a small snippet.
The Latest News tab offers the latest updates about the world of cricket. 
You can test your knowledge in the Quiz section.
The website is also available as an app, easy to download on Android and iOS devices.
ESPNcricinfo
This site is one of the oldest platforms, launched in 1993. It is exclusively dedicated to cricket and is touted as one of the leading names for expert cricket analysis. Be it for top cricket leagues or the usual bilateral series, you can find all the information on ESPNcricinfo.
A powerhouse of sports, offering stats for every single match played between the teams.
Offering H2H stats of the teams against over 50+ parameters with the click of a button.
The portal features news stories, the latest articles, live ball-by-ball coverage, and StatsGuru.
You can check individual player performance with detailed insight into their career trajectory.
Cricket World
Cricket World has built a loyal fandom, thanks to the many offerings for cricket betting enthusiasts. You can live-stream select international matches and gather detailed information about everything going on in the world of cricket.
A 360-degree view of everything related to cricket – stats, daily news, interviews of the players, radio commentary, and live streaming.
Cricket betting tips and match previous to help you make some expert predictions.
A dedicated section promoting cricket-centric books and resources to build a good user community.
HowSTAT!
Although HowSTAT! is a later entrant into the industry, it has gathered immense popularity among bettors – thanks to its point-to-point cricket analysis. The website doesn't waste any time consolidating its reputation as one of the best cricket analysis websites and has a lot of offerings for bettors. 
A no-nonsense, straightforward betting platform that gives all the details on cricket to make a better analysis.
Everything, including stats, is accessible from the homepage itself.
Detailed stats of the all-rounders, batting, bowling, fielding, and more.
Cricwaves
Cricwaves is one of the newer cricket analysis websites. But despite this, it does a decent job of offering all the information about cricket so that you can place bets mindfully and make impressive winnings.
New features, such as live match simulation and widgets add a fresh touch to any stats provider's website. 
An easygoing scoreboard for the ongoing tournaments on the homepage, saving you time.
Active social media handles, adding more accessibility to build a better betting community.
Cricket.com.au
Although this website dedicates much of its space to domestic and international Australian cricket, you can still gain some essential information about other cricket to improve your betting and analysis.
Sufficient data to understand how an informed bet is placed despite offering information only when the Australian Cricket Team is involved in the match.
Regular videos and news updates to help you improve your insights and make sound decisions about betting.
Cricket365
Like other websites, Cricket365 also does a decent job, offering relevant insights about cricket, and giving you a dose of pure cricket analysis. Cricket365 is a no-frills, tidy website that doesn't beat around the bushes, making it easy for beginners to learn updates and educate themselves.
The less-is-more approach makes it one of the most straightforward platforms to scroll freely.
Regular cricket news and analysis.
Clear-cut sections for live scores, county cricket, news, teams, and other details. Just click on the respective tab and all the information will be displayed on your screen.
Chase Your Sport
Chase Your Sport is not an exclusive cricket analysis website, but you can chase cricket updates on this platform. You can select the sport you want information on, and all the details shall be displayed on your screen. Follow the further prompts and make the most.
Despite not being centered on cricket, Chase Your Sport offers a lot in terms of cricket betting analysis.
A one-stop destination for all your sports betting needs in general.
Good detail of IPL matches, helping you analyze and place your bets wisely.
A good platform for fantasy cricket, including Dream11.
Cricketnext
Cricketnext is a part of New18 and is considered a decent cricket analysis website with a straightforward interface and ease of use. A go-to platform for all beginners, this platform has decent offerings for one and all.
Get a larger share of cricket-focused articles and reviews to increase your cricket knowledge.
Check out live scores and previous results.
A dedicated tab for Teams that lists the squads and detailed player-wise profiles.
Available in multiple Indian languages, including Hindi, Telugu, Tamil, Gujarati, and Bangla.
Cricadium
Last but not least, Cricadium is another renowned website for expert cricket analysis, helping you analyze the game in depth so that you can improve your bets and make good winnings. Although a newcomer, Cricadium has built a strong reputation, offering a lot to enthusiasts.
Decent match predictions backed by significant data about previous match performances and trends.
Detailed articles about cricket to develop a great understanding of the sport.
A good pick for fantasy cricket lovers, with a dedicated section for fantasy tips and blogs.
How to Analyse Cricket Data?
Analyzing cricket data to place-wise bets is no rocket science. You need to follow some parameters as a base to analyze the game before you place a bet.
In-Depth Team Analysis
Cricket analysis includes assessing the strengths and weaknesses of the batsman and bowler comprehensively. Getting in-depth learning helps you a long way in placing lucrative bets. These include: 
Types of strokes that the batsmen play
Method of dismissal
Percentage of scoring shorts
Percentage of shots on leg-side or off-side
Performance of the batsman against a specific bowler
Performance on a particular pitch
Performance against a particular bowling type like fast, medium, spin, medium-fast, and more
Detailed bowler analysis, including the percentage of balls
Types of Deliveries
Average runs are given away during the Power Play overs, middle, and death overs
Percentage and type of wicket-taking deliveries.
In-Depth Opposition Analysis
Here, cricket analysis includes learning about the strengths and weaknesses of the opposition. Here are the possible parameters:
Overall team analysis
Analysis of the individual players like batsmen, bowlers, and fielders.
Fielding Analysis
The cricket analysis in this section is concerned with finding out the performance of the fielders. Here are the parameters to look for: 
Number of catches taken
The number of catches dropped
Types of catches
Run-outs effected
Run-outs missed
Types of run-outs
Stumpings effected
Stumpings missed
Types of stumping
Fumbles and misfield
The precision of the throw.
We hope you utilize all these sources and analyze the match properly to build your cricket betting strategically. Always bet intelligently and responsibly. All the best.