Online Cricket Betting Tips & Strategies: Learn How to Win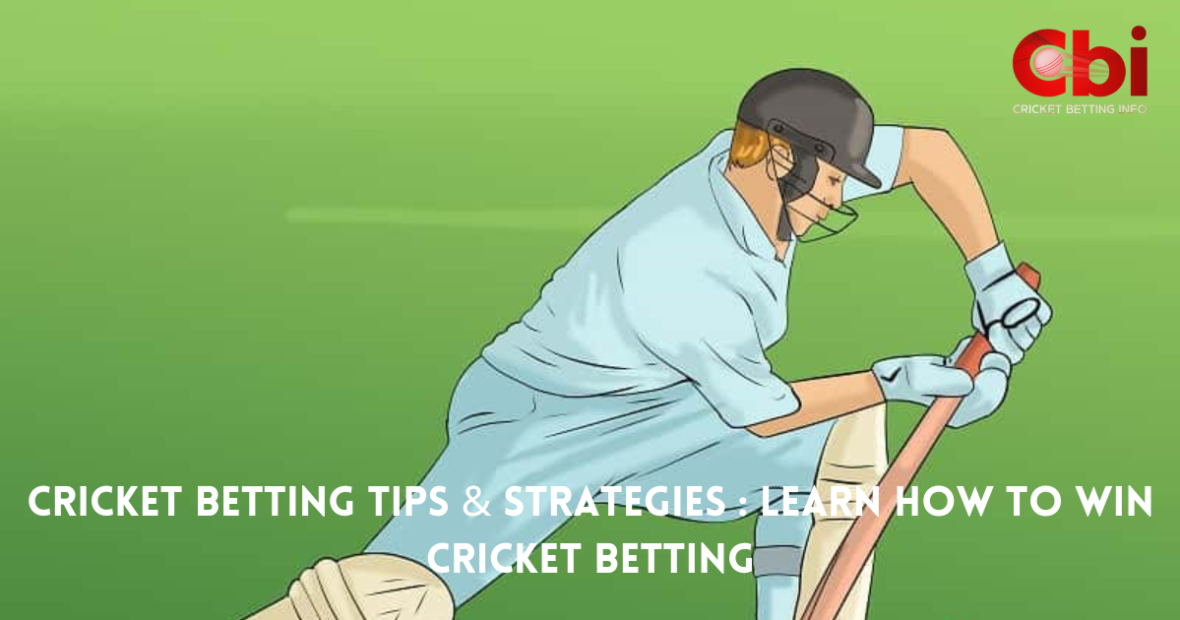 Cricket betting is one of the most popular forms of sports betting in India, where you can make lucrative winnings if you know how to play it right. If you want to make consistent profits when wagering on cricket, it is vital to design a watertight cricket betting strategy. Picking random numbers and betting on them is not a great idea. You have to be well-versed in everything and build a strong strategy to win big.
Cricket Betting Tips & Strategies: Which are the best?
An effective cricket betting strategy ensures winnings, regardless of the type of bet or tournament you want to bet on. Do not fret if you don't know how to proceed. We are here to help you out. Here are some of the most popular and effective cricket betting strategies to help you in your game.
Dogon Strategy
Dogon strategy is a mathematical way of calculating bets. It follows the principle of playing catch-up, where you double the stakes at every step to offset the losses incurred in the previous round. Continue this pattern until you have recovered everything that is lost. It will also help you earn some planned profits.
This strategy is quite popular among the freshers. But before applying it to your bets, you need to remember a few things. Dogon is an elementary cricket betting strategy, which means, it will not give you long-term results. If you use it recklessly, it may even lead to bankruptcy in the future.
Flat Betting
Flat betting is another popular betting strategy among the novice, enabling you to increase your chances of winning the bets. The math is simple and works for bettors who want to test the waters. The principle behind this strategy is that every stake is worth the same amount, no matter how many wagers you place. So, if you are risk-averse, you can opt for a small flat bet.
This strategy is ideal for minimizing risk. With this, you will barely erode your bankroll.
For instance, if you have 2,000 INR in your account and have fixed your flat betting figure to 100 INR, you place the first bet with the latter. If you lose the bet, your balance goes to 1,900 INR. You don't have to revise the stake every time, your next bet will again be 100 INR.
Percentage of Bank
This strategy has benefits for inexperienced bettors. Like flat betting, the percentage of the bank system seeks to cut losses, thereby minimizing the risk. But for this to work, every bet you place must be equivalent to a fixed percentage of the bankroll. Under this strategy, the most common slabs are conservative (1-2% of bankroll), moderate (3-5%), aggressive (6-10%), and chaotic (= > 10% of bankroll).
Choosing a moderate slab is the safest choice here, where you wager 3 percent of the bankroll on volatile outcomes and 5 percent on the apparent ones. As the absolute value of the stake depends on your bankroll, this strategy is sometimes also known as the Dynamic Bank strategy.
Oscar's Grind
Calling Oscar's Grind a modified version of the Dogon system wouldn't be wrong. But unlike the latter, you don't increase your stake every time you lose the bet. Instead, you do that only upon winning the bet while waiting out the losing ones. Oscar's Grind classifies the betting into sittings and units. Every sitting starts with a unit bet and ends when you have earned a unit profit. If you are lucky enough to win your first unit bet, you have earned a good profit. Afterward, a new sitting bet will start.
However, if you lose your first bet, you continue betting with the same betting amount until your wager comes through. When you win, the betting amount increases by the initial unit stake and stays the same until you win the next bet again.
Ladder System
The Ladder System is another no-frills cricket betting strategy where the whole amount you win on a bet is staked on the next bet. Whether a beginner or a pro, you can make the most of this strategy and win big.
Under the ladder system, the best deal is to choose outcomes with lower odds – ones with a high possibility of panning out. With this strategy, you can specify the exact number of the best in a cycle. As per experts, always choose a three or five-step ladder. It is because every new bet induces one chance of losing it all. With the ladder betting strategy, you can check for losses as you mainly bet on selections with low odds. But there is a downside to this strategy too. If you lose any bet, you lose everything.
Danish System
The Danish System is another popular cricket progressive betting strategy, where you can increase the stake by one unit and the odds by at least 0.5. As this strategy is a little risky, it has a fair share of detractors too. If you get into a losing streak, your bet amount and odds will keep increasing, and you may lose control over your losses.
Suppose you have placed a 100 INR bet on odds of 1.50. If you lose, the next bet will be worth 200 INR, and you will be playing at odds of 2.0. If you lose again, the subsequent wager will be 300 INR at odds of 2.5. It will continue until you win the bet. The Danish system is quite similar to the Dogon strategy, with a major difference being that in the latter, you increase the bet value with every loss, but the betting odds remain the same. However, with this strategy, your stake and odds go up every time you lose a bet. 
The Kelly Criterion
The primary goal of this strategy is to strike a balance between risk and reward. Thus, when you apply this in your betting rounds, you take a middle ground. The Kelly Criterion helps you maximize your returns and minimize the degree of volatility. The strategy also helps you find the optimum amount to stake from a sports betting standpoint, but without risking your bankroll.
To make this strategy work, you have to factor in the possibility of a bet to come through. It is only then you can stake more on a selection with a higher possibility of winning and similarly stake less on a wager that doesn't have a chance to come through.
To make this strategy more impactful, you need to thoroughly understand the game and the players involved to become more objective and realistic in your judgment. The formula of this strategy goes like this: (bp-q)/b = f, where b stands for odds, p for an expected chance of bet winning, q for an expected chance of bet losing, and f for the percentage of your bankroll when you stake on the wager.
Tips to Improve Your Cricket Betting Strategy
Whether you are betting for the first time or second or third, the below-listed tips will only help you improve your betting skills. Start slow and steady and keep these things in mind.
It is important to remain disciplined and bet responsibly all the time. It is also vital to choose a reliable betting platform.
Learn all the different cricket bets like the back of your hand so you can select the most useful while placing it at a particular tournament.
Use live cricket score sites and apps, as they will give you proper insight into real-time updates on ongoing matches.
You can do a couple of dry runs without staking your real money to fully understand how each cricket betting strategy works. This way, you will polish your skills and feel more confident while betting with real money.
We suggest you monitor your performance periodically to get invaluable insights. For instance, you can check if your betting strategy is reaping your dividends or is merely burning your money on placing bets. Keep a tab of all the bets you are placing, the tournaments you are wagering on, and your winnings.
Always check for welcome bonuses and free bets and try using them to your advantage during certain events and tournaments.
While funding your betting account, always choose the safest and most commonly used betting payment methods.
While placing bets on IPL or T20 cricket matches, take on over/under markets.
Understand the composition of the teams taking the field and analyze rivalries in every game. According to experts, this strategy will always work to your benefit.
While many people ignore the venue when placing bets, we strongly suggest you not do it. Always remember, not all venues are built the same. The bigger the stadium, the more difficult it will be for the batsmen to hit massive sixes out of the park.
Every cricket strategy comes with its own share of pros and cons. Therefore, choosing the best one is subjective. Always consider whether you want to make instant profits or look forward to winning smaller amounts over an extended period. Some strategies may be more volatile than others, and vice versa. Follow the sport, understand betting markets, and give your best shot. All the best.